Sweet Dirt Recreational Cannabis First to be Certified Clean by Maine Organic Farmers and Gardeners Association (MOFGA)

An expert from Beer & Weed Magazine's August 2021 issue:
It's a natural inclination for cannabis cultivators to extol the virtues of their grow when touring their facilities. Walking Sweet Dirt's 34,000-square foot operation in Eliot with founder, Hughes Pope, however, is an exercise in confession.
This group of plants had an issue and needed to lose a foot off the top. That plant suffered some light leaks…. To a not-so-casual observer, seeing giant frosty nugs that most consumer would drool over, if can sound a little bit like Leonadro Davinci complaining he doesn't much like the way the hair hangs on Mona Lisa's right shoulder.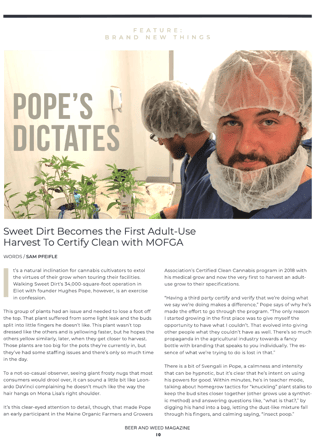 It's that clear-eyed attention to detail, though, that made Pope an early participant in Maine Organic Farmer and Gardeners Association's (MOFGA) Certified Clean Cannabis program in 2018 with his medical grow and, now, the very first to harvest an adult use grow to their specifications.
…But there's a reason that only 16 medical grows in Maine and now the one adult grow are MOFGA certified. It ain't easy. In fact, Sweet Dirt, says MOFGA director of certification services Chris Grigsby, is the only adult grow that's even inquired about the program so far.
Read the complete article, here:
https://beerandweedmagazine.com/3d-flip-book/august-digital/ or pick up a copy of Beer & Weed Magazine at any number of brewery or cannabis establishment
s throughout Maine.