The short answer is yes. The long answer is... it's complicated.
In 1999, Maine approved a bill to permit medicinal cannabis use, making it the fifth state to pass such a measure. However, the mechanics of the law were still quite restrictive.
To begin with, the law enumerated a handful of conditions for which doctors were allowed to prescribe cannabis. These included:
Cancer
HIV/AIDS
Glaucoma
ALS
Crohn's Disease
Epilepsy
Nail-Patella Syndrome
Alzheimer's Disease
Cachexia
Severe Nausea
Chronic Pain
Multiple Sclerosis
Outside of this list, doctors were not allowed to certify patient for the medical use of cannabis or cannabis products to their patients.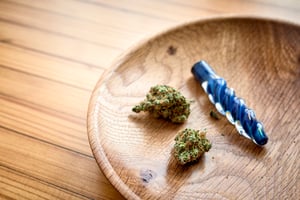 Additionally, the law did not provide any mechanism for retail distribution of cannabis. That is, no one could open a retail store to serve cannabis patients. Authorized patients were allowed to cultivate up to three mature plants at home, but there was no other legal method of acquiring cannabis products.
In 2009, voters passed a referendum to allow for the establishment of non-profit dispensaries—one per legislative district – and also gave patients the opportunity to get medicinal cannabis from caregivers and/or medical cannabis delivery services. This law also expanded the authorized conditions list to include Post-Traumatic Stress Disorder.
In 2016, Maine joined the growing list of states that sanctioned legal recreational cannabis. Though political wrangling and conflict between the statehouse and the governor has forestalled the full implementation of recreational use, one provision of the 2016 law was to abolish the list of medical conditions approved for cannabis prescription. Doctors in Maine are now free to certify patients for the medical use of cannabis at their discretion. And, in 2018, medical cannabis caregivers were granted the ability to open their own storefronts.
On top of the 2016 law legalizing adult-use cannabis in Maine, the federal government lifted its prohibition on industrial hemp in 2019, making CBD—or cannabidiol, a non-psychoactive compound of the cannabis plant valued for its health benefits—legal in all 50 states, including Maine.
The road to medicinal cannabis in Maine has been a winding one, but much progress has been made over the last two decades – particularly with the addition of medical cannabis dispensaries, caregivers and caregiver storefronts - and use of the plant under medical supervision has become widely accessible in the state.
Sources:
https://legislature.maine.gov/lawlibrary/maines-medical-marijuana-law/9242
https://www.marijuanadoctors.com/medical-marijuana/me/state-laws/