Maine's first year in the adult-use cannabis market came in like a lamb and went out like a lion. Just a handful of stores opened on day one, but more than 60 retail cannabis stores were operating by the end of 2021. Sweet Dirt jumped into the market in early December 2020 with our Waterville store, and then our Portland store opened in March 2021. Here are a few reflections on our first year in Maine's adult-use market:
It's not for the faint of heart
The cannabis industry is rife with challenges. There are banking and financing roadblocks, hurdles in entering new markets and municipalities, hiring and training challenges, difficulties sourcing products and sustainable packaging, and more. Pile on the uncertainty of a pandemic, and it makes for a lot of planning, pivoting, and sleepless nights.
What stood out to us the most is how the adult-use cannabis community worked together to bring an impressive array of cannabis products to market. In its first year, Maine saw nearly $60 million in revenue and 788,000 transactions from recreational cannabis sales.
Explosive growth brings its own set of challenges
We are proud to say we have grown our team from a pioneering crew of 20 to over 135 employees spanning retail, cultivation, manufacturing, and administration. That's over 380% growth! While this rapid growth is exciting, it is not without challenges. Finding employees has thankfully not been difficult, but onboarding and training them is no small feat.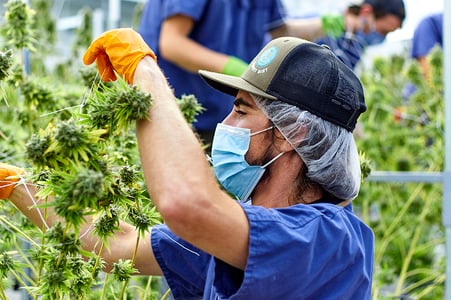 First, there is the matter of securing an Individual Identification Card (IIC) for each employee. IIC cards are required by the State of Maine from the Office of Marijuana Policy (OMP). Due to Covid staff shortages and demand, getting an IIC card can sometimes take several weeks, which delays employee start dates.
Next, there is the task of training and educating new hires while building a team that works well together. We are fortunate to have a smart, dedicated, and fun-loving group.
Another growth-related challenge for Sweet Dirt has been scaling our organic growing practices to our new 33,000 square foot greenhouse. Our flower is grown in living soil and has been certified clean by the Maine Organic Farmers and Gardeners Association (MOFGA). Growing and producing organic, quality products at such a large scale is labor-intensive and something we continue to hone. It's also something we are incredibly proud of. Being Maine's only MOFGA-certified clean adult-use cannabis producer has served to differentiate us in the Maine market.
Tourists are a boon, but regulars carry us
No doubt, tourism has been critical to the success of both our Portland and Waterville stores. We often see 20 to 25 different state license plates in our lot on any given summer day. But our regulars, Mainers, and repeat visitors from neighboring states, have absolutely helped carry us through the slower winter months.
New products are around every corner
Maine's budding adult-use market still has a way to go before it catches up with states like California, Colorado, and Oregon. For an industry still in its infancy, though, Maine has turned out an impressive array of products across every category from beverages to edibles, concentrates, and flower. Plus, Maine is home to many glass and ceramic artists and artisans who sell their locally made, Maine-inspired cannabis products.
In just a few weeks, Sweet Dirt will be unveiling its own line of adult-use cannabis edibles. They are created by our renowned chocolatier and are made with our certified clean cannabis.
The future is bright, and Maine is leading the way
By almost every measure, 2021 was a great year for Sweet Dirt and for the Maine adult-use cannabis industry. People love the product, and the product is good. Really good. Maine has emerged as the jewel in the crown of the northeast cannabis industry with its far superior quality of product, better growing practices, and reasonable prices.
More municipalities need to recognize the opportunities this industry presents and open their doors to adult-use cannabis retail, cultivation, and manufacturing facilities. The consumer will ultimately reward companies that produce affordable, quality product that is sold in a welcoming environment by staff that are compassionate, knowledgeable, and fun. Maine's adult-use market has much to offer—and there is so much more to come