Looking for a gift sure to wow the cannabis lover in your life? Here are some quality gifts for everyone (21+) on your holiday list – from the cannabis enthusiast to the canna-curious.
Flower. This holiday season, skip the foil-wrapped Poinsettias and opt for premium Maine-grown cannabis flower.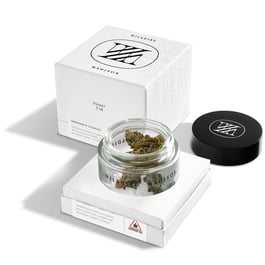 The highly giftable Wilshire Madison flower in its luxe embossed boxes and heavy glass jars feels downright decadent. Strains include Mandarin, Sherbet, and Wedding Cake x OG Kush.
Make merry with the gift of Sweet Dirt's own organic strains. We grow the only Maine recreational flower that's certified 'clean' by MOFGA, the Maine Organic Farmers and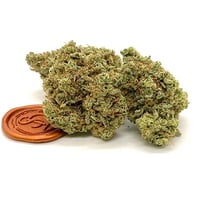 Gardeners Association. Strains include Alaskan Orange Tree, Dream Star, Nor'easter, and many others – all dripping in terpenes and rich in flavor and aroma.
Where to buy: Sweet Dirt flower can be found at Sweet Dirt recreational stores in Portland and Waterville and in fine cannabis dispensaries throughout Maine.
Pipes and Bongs
. What cannabis
'
canna
-
seur
'
wouldn't be delighted to find some
smokable
art under the Christmas tree? Check out the colorful
Maine-made
toasted marshmallow pipes and lobster
buoy
bongs from
the talented
Danny Camp
.
Where to buy: Typically found only in high-end glass galleries and smoke shops, Sweet Dirt is proud to have Danny's work – plus that of @beakglass, @sugarmattys and @witchdrx – on display and available for purchase at both our Waterville and Portland recreational stores.


Badder, Shatter & Sugar
.
For the dabbing enthusiast,
the Alaskan Orange Tree Shatter and
Malibu
Twist
Shatte
r
are
flying off our shelves this holiday season
.
They
are
the result of a collaborative effort with Blue Sky Lab
and Sweet Dirt
. These are
sure to please even the most discerning concentrate consumer. And if
your
cannabis lover does cartwheels for
cartridges
, th
e
n our ever-popular 'Liquid Diamonds', also
processed
by Blue Sky
, will definitely bring a smile
.


Where to buy: Blue Sky concentrates and cartridges can be found at Sweet Dirt recreational stores in Portlandand Waterville and in fine cannabis dispensaries throughout Maine.
Electronic Vaporizers. Everycannabis-loving techie has a high-end electronic vaporizer on their wish list. This sleek, award-winning Puffco Peak Pro is great for beginners and connoisseurs alike.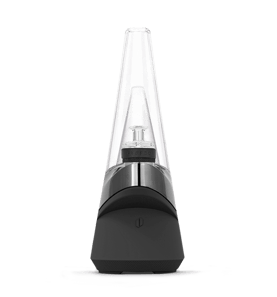 "I
t offers the highest level of customization and control to dial in the exact experience you're looking for.
" For
something smaller, pick up a
Puffco Plus portable oil vaporizer or PuffcoVision concentrate vape pen.
Where to buy: Puffco vapes as well as the best-selling Evolve and Vane dry herb vaporizers from Yocan and the highly-portable and always discreet PAX 3 at Sweet Dirt recreational stores in Portland and Waterville. FYI: The PAX 3 will soon be available in limited edition hand-dripped designs.
Stash Bags & Jars
.
While recreational cannabis is legal and widely accepted in Maine, most cannabis consumers still
wisely
opt for smell-proof, child-resistant storage
for
their
flower and edibles
.
Sweet
Dirt
loc
k
able, zippered hemp stash bags ar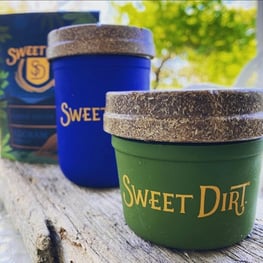 e great for discreet, on-the-go cannabis storag
e. Think
vape pens, carts, concentrates, and edibles.
We also love
the
silicone-coated
mason ja
rs
from
RE:STASH
. These
BPA-free,
light-blocking,
child-proof storage
jars are perfect
for your favorite strains
, gummies
and more.


Where to buy: Sweet Dirt stash bags and RE:STASH jars can both be found at Sweet Dirt recreational stores in Portland and Waterville.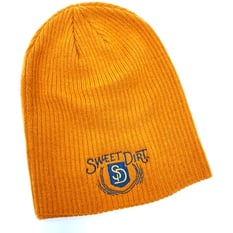 Hats & Hoodies.
Who
doesn't love a sweet lid or
snuggly
hoodie? Sweet Dirt stores are stocked with
locally produced
embroidered
beanies
and
baseball hats
and printed
hoodies and sweatshirts
.


Where to buy: Check out our swag at Sweet Dirt recreational stores in Portland and Waterville. New colors are hitting the shelves soon!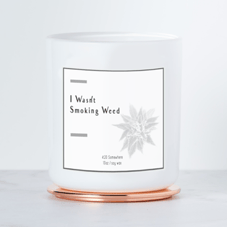 Candles.
Whether celebrating
marijuana's bouquet
or masking its
aroma, candles have long be
en a go-to for cannabis consumers. Two of our favorites are 'I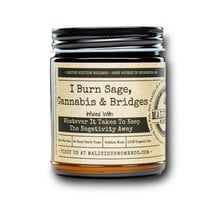 Where to buy: We have these and other handmade candles at Sweet Dirt recreational stores in Portland and Waterville.
S
pin Batteries.
Exclusive to Sweet Dirt, spin vape batteries are made with the
highest-grade
battery cell available, ensuring a longer lifespan and safe, dependable performance.
Affordable and stylish, these make great stocking stuffers!

Where to buy: These exclusive batteries are found at Sweet Dirt recreational stores in Portland and Waterville.
CBD. For those who prefer the benefits of CBD, Sweet Dirt offers a wide array of Maine-made CBD edibles, flower, topicals, oils, and more. Our favorite CBD edibles include vegan CBD gummies from High Peak (@highpeakcannabis), a yummy full spectrum praline spread and ever-popular Pate de Fruit from Schoppee Farms, and All Kind CBD honeys and jams.
Maine Coast Hemp full spectrum oils are also customer favorites. For those looking for hemp flower, Sweet Dirt proudly carries smokablehemp flower and pre-rolls from Schoppee Farms. For luxury skin care, Sweet Dirt offers an array of topicals including full spectrum CBD salves and lotions from Schoppee Farms and massage oils, salves, and lip balms from Maine Coast Hemp.

Don't forget the pup on your shopping list! SchoppeeFarms CBD treats are made from rich, organicallygrown raw hemp and made exclusively with human grade organic ingredients. Maine Coast Hemp's full-spectrum hemp oil is known to help improve your pet's mood and general well-being.

Where to buy: All these products and a variety of others are available at Sweet Dirt recreational stores.
Gift Cards. Spark joy with a Sweet Dirt gift card. Available at Sweet Dirt Recreational Stores inWaterville and Portland, Sweet Dirt gift cards can be gifted in any amount of your choosing ($420 is sure to make spirits very bright indeed). These can be used at any Sweet Dirt recreational store in Maine (more coming soon!) and never expire.