Sweet Dirt proudly offers Maine's premier adult use cannabis - the first to be certified clean by the Maine Organic Farmers and Gardeners Association (MOFGA)
Situated in Southern Maine on a nine-acre campus featuring a 33,000 square foot greenhouse and state-of-the-art manufacturing facility, Sweet Dirt is able to meet all your recreational wholesale needs.
Our product line includes premium flower and pre-rolls, vape carts, concentrates, and hand-crafted edibles.
Where We Started
Sweet Dirt was founded in 2015 by a southern Maine-based husband and wife medical cannabis caregiver team with years of experience in cannabis and plant medicine. Our years of growing have taught us to respect genetic integrity and the power of living soil and to embrace the serendipity of cannabis cultivation. Our passion for organically-grown cannabis and our real-world experience growing unique, heirloom, and premium strains has helped us grow into the company we are today.
Organically-Grown, Certified Clean Cannabis
Sweet Dirt is Maine's premier adult use cannabis producer and the first to have its flower certified clean by Maine Organic Farmers and Gardeners Association (MOFGA), Maine's trusted third-party certification service of agricultural products. The MOFGA Certified Clean Cannabis Program (MC3) requires on-site inspections of plants, inventory and ingredients, plus third-party lab testing.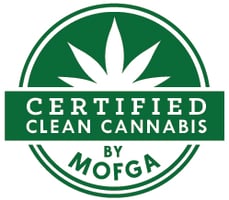 To receive the coveted 'MC3' MOFGA seal, growers must meet strict requirements proving the purity of ingredients and ensuring no synthetic pesticides, irradiation, or other unnatural forms of pest control, sterilization, or preservation are used.
Sweet Dirt has been growing MOFGA certified clean cannabis for the medical market for several years and now does so for the Maine adult use market. Our state-of-the-art, hybrid greenhouse facility was built from the ground up specifically for growing cannabis for the Adult Use program.
We grow in living soil, use the latest technologies to save energy, harness the power of the sun, and supplement with artificial lighting to give the perfect, growing environment.
Why Clean Cannabis

Studies have shown that consumers are deeply concerned with the use of pesticides, chemicals, and other fertilizers in cannabis cultivation. Second only to the overall efficacy of cannabis, consumers ranked cultivation practices as a critical purchasing consideration and, increasingly, buyers are asking "who grew this cannabis and how was it grown?" Sweet Dirt flower is greenhouse grown in living soil with organic growing practices.
Cultivating a 'clean' cannabis harvest can be more costly and labor-intensive than other growing methods, but we believe it's the right path forward.