420 (four-twenty): The number once only celebrated by stoners and marijuana enthusiasts is now recognized by a broader, international audience.

420 (or 4/20) began in 1971 when five San Rafael, California high school students would meet each afternoon at 4:20 to smoke up. The term "420" was coined and became the group's code for meeting up to puff-puff-pass.

In 1990, a group of Grateful Dead fans circulated flyers in Oakland, California inviting cannabis lovers to partake on April 20 at 4:20. One of these flyers landed in the hands of Steve Bloom, a former reporter for High Times Magazine. The magazine printed the 4/20 flyer in 1991, and "420" soon became the designated date/time for all things weed.

Celebrated annually on April 20th, 420 has evolved into an international counter-culture day dedicated to celebrating and consuming cannabis – and fighting for legalization and decriminalization.

Once familiar with 420, you will see signs throughout pop culture (i.e., clocks set to 4:20, price tags showing $420, football game scores at 4-20 in movies, etc.)

After two years, cannabis consumers have eagerly awaited the return of 4/20 concerts, festivals, and gatherings. Drive by any one of the 8,500+ legal cannabis dispensaries in the US on April 20th, and you're in for a good time. You will see planned celebrations plus deals and discounts off cannabis goods and merch.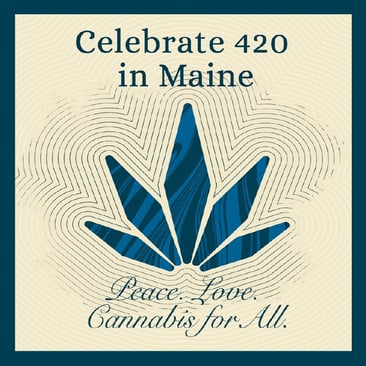 Check out a sampling of 2022 4/20 celebrations curated by Herb. Celebrating in Maine? Stop by Sweet Dirt Portland (adult-use cannabis), Sweet Dirt Waterville (adult-use cannabis) or the Sweet Dirt Eliot (medical) store for three days of festivities, deals, and freebies.
See some of the deals and discounts below, and visit www.sweetdirt.com/420 for more.

Adult Use / Recreational (Portland & Waterville)

Monday
• 20% off all Sweet Dirt 1g pre-rolls

Tuesday
• 20% off all The Confectioners cannabis edibles

Wednesday
• Pick a FREE Sweet Dirt T-shirt or key fob (while supplies last)
• All Sweet Dirt 3.5g for $42
• Raffle prizes throughout the day

Medical (Eliot, Maine)

Monday
• Double Mainer Monday (Mainers with med cards) discount to 10% off (some exceptions may apply)
• All patients - Buy 1 cart, get 1 50% off

Tuesday
• Double Tourist Tuesday to 10% off (exceptions may apply)
• All patients - Tasty Two-for-Tuesday - Buy any 2 edibles/get 1 free (equal or lesser value)

Wednesday
• Pick a FREE Sweet Dirt T-shirt or key fob (while supplies last)
• FREE Kief-coated pre-roll for every $50 you spend ($15 value each. Max 5 per patient)
• Spend $50 and get a FREE Sweet Dirt 100mg gummy bag
• FREE coffee and donuts in early bird hour (8am-9am)