Gummies. Chocolate bars. Caramels. Brownies. Lollipops. For many people, ingesting their favorite cannabis strains through assorted marijuana edibles (food infused with cannabis) or THC-infused beverages is preferable to smoking it. And even for those who enjoy smoking, edibles can make for a truly different and delicious experience.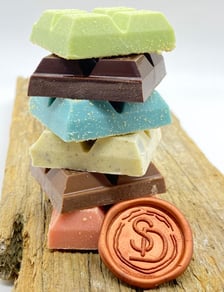 But keep in mind: these are NOT your grandma's brownies.
As with all cannabis, it's best to start low and go slow the first few times you try edibles. It's always a good idea to start by taking small amounts of lower potency edibles (with 5mg of THC or so). And allow plenty of time for the edibles to kick in.
As opposed to the nearly instantaneous effects of smoking marijuana, it may take anywhere from 30 to 90 minutes to begin to feel the marijuana edibles – or in as little as 10-15 minutes for a THC-infused soda, lemonade, near-beer, or elixir to kick in. These effects differ from person to person, with many people experiencing more intense highs in both body and mind. The duration of the high can also vary – lasting anywhere from a few hours to a half-day or longer, depending on the amount consumed. Again: go slow and wait at least two hours – if not more – before consuming more.

Sweet Dirt is proud to carry a large array of adult-use edibles – with more to come soon. All are locally and lovingly crafted right here in Maine. Our edibles partners include: All Kind, Green Alien, High Brow, Keef Cola, River Driver, Sea Dog, Shipyard, and more.

The assorted gummies are a big hit with people looking to satisfy their sweet tooth and get high. Choose from several tasty flavors, like blue raspberry, grape, cherry, watermelon, strawberry, orange, mango, maple, sour apple, and mixed fruit (a customer favorite). Each yummy gummy contains 5mg to 10mg of THC each and sold in tins of ten gummies. (Per Maine's Office of Marijuana Policy, no adult-use edible sold in Maine's recreational cannabis stores can contain more than 10mg of THC per serving and 100mg total per package). The lower dosage amounts help cannabis newbies to go low and go slow.
At Sweet Dirt, we also carry a range of inspired – and inspiring – chocolate bars. Flavors include seasonal favorites like candy cane and pumpkin as well as staples like milk chocolate, cookies & cream, orange cream, and strawberry shortcake. All chocolate bars are also made locally and are 50mg THC each.

In addition, Sweet Dirt also carries a range of yummy treats such as peanut butter bars and brownie bites, plus a selection of THC-infused beverages.

If you're ready to embark on a culinary and mental adventure, check out Sweet Dirt's growing menu of adult-use marijuana edibles available at our Waterville and Portland stores. And, whatever you choose, be sure to store your THC goodies in a locked, labeled, cool, dry place – far out-of-reach from curious children or pets.