Many folks see the new year as a new beginning, a fresh start, or a chance to step out of their comfort zone. If you made a resolution this year to try something new – maybe it's time to give cannabis a try.
If you have never used cannabis before, it might seem a little intimidating, but Sweet Dirt is here to be your sherpa as you make your way through this new experience. To help you feel more comfortable about cannabis, let's start from the beginning:
Cannabis in the United States
In 1996, California was the first state to legalize medical cannabis. In 2012, Washington and Colorado became the first states to legalize cannabis for recreational use. As of 2021, 18 states have legalized marijuana for recreational use, including Maine of course.
Because of the decades of misinformation spread about marijuana (think: Reefer Madness) some Americans are still hesitant to try what they were led to believe was a brain-cell-killing drug of the devil. Interestingly, more than 90% of Americans now support the legalization of marijuana, so we seem to be moving in the right direction.
What cannabis can do for you
Cannabis offers a little something for everyone. The way we see it, cannabis is about enhancing experiences. It can help you unleash creativity that is deep within you or help you discover a new appreciation for the things around you. Many people also find that cannabis provides them with the relief they are looking for at the end of a long day. Certain strains can help you unwind and are excellent as part of a self-care ritual. Others find that cannabis helps uplift them and unlocks focus and passion. Let us help you make your way into this new world. Stop by our locations any time to talk with our budtenders – they will help you find the right flower or edibles for the experience you are looking for.
How to use cannabis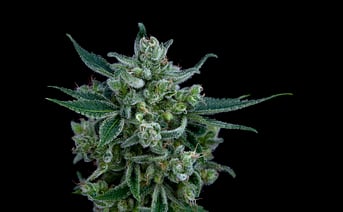 Everyone has a different preference when it comes to using cannabis. You can smoke it, dab it, or eat it – it's about what feels most comfortable and enjoyable. Need some help getting started? Check out our "how-to" posts for a step-by-step guide written by our pros:
What to expect when using cannabis
Start off small! The first time you try cannabis isn't the time to take a huge bong rip or eat a whole edible. If you are smoking, take a very small hit (inhale). If you are trying edibles for the first time, start with a small dose, such as a 5 mg THC piece of chocolate. You can even break that small piece in half. Most importantly: give it time to kick in. This is SO important. If you don't feel anything after 30 minutes or even 2 hours, don't be fooled. We want you to relish this, and overdoing it with the THC can lead to a less than enjoyable experience.
People experience different intensities and durations of a high. Experimenting with different strains and THC levels a little it at a time can help you find your sweet spot.
Where to buy cannabis
Gone are the days of buying questionable bud from a friend of a friend, or trying to make a batch of brownies in your dorm. Now that many states have recreational marijuana available, you should always buy from a reputable retailer. High-quality cannabis makes a difference.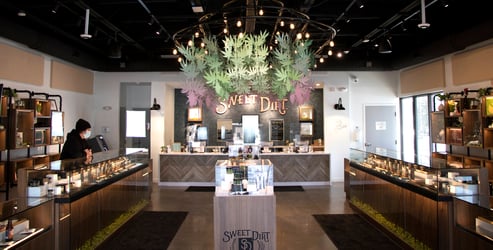 At Sweet Dirt, we believe in growing cannabis the way nature intended: in living soil, rich in organic matter and beneficial microbes, and with clean water. For the safety and well-being of our customers, we never use any harmful pesticides or fungicides. We are proud to provide Maine Organic Farmers and Gardeners Association (MOFGA) Certified Clean Cannabis. We hope to see you soon!