If you are planning a visit to Maine - or are a Mainer and new to buying recreational cannabis in Maine - here are a few things you need to know:
Is Cannabis legal in Maine?
Yes! Recreational cannabis is legal - for adults aged 21 and over - under Maine state law. This law applies to both Maine residents and visitors to the State of Maine.

Recreational cannabis is taxed and regulated similarly to alcohol. Regulated adult-use (recreational) cannabis sales began October 9, 2020.

Where can I purchase adult-use cannabis in Maine?
You can purchase legal recreational cannabis at one of Maine's actively licensed adult use cannabis stores – including Sweet Dirt's stores in Portland, Waterville, and Bridgton. Currently, there are about 89 active cannabis retail stores and, according to the Maine Office of Cannabis Policy, only 7% of Maine's municipalities have opted-in to the adult-use cannabis program – so most stores are concentrated in a handful of areas.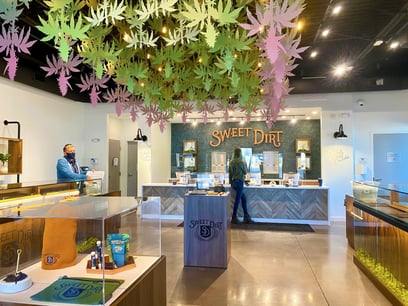 Given the busy summer months, here in Maine, and the scarcity of recreational cannabis storefronts, stores will be busy with tourists, so look for those off the beaten path or that offer ample parking and can accommodate a crowd.

Note that Maine has both an adult use and a medical cannabis program. The medical cannabis program includes thousands of local caregivers and storefronts, but a medical card is required to purchase medical cannabis. And, adult use and medical cannabis cannot legally be purchased from the same facility.

What identification do I need to purchase legal adult-use cannabis in Maine?
If you are headed to one of Maine's adult use cannabis stores, be sure to bring a valid US-issued ID card, state-issued driver's license, or government-issued passport showing you are 21 years of age or older. (You must be aged 21 or older to posses or use non-medical cannabis in Maine). No medical card is needed and you do not have to be a Maine resident.

How much recreational cannabis can I purchase?
An adult may possess up to 2.5 ounces (or 71 grams) of cannabis. This 2.5 oz limit includes no more than 5 grams of marijuana concentrate.

Where can I consume cannabis in Maine?
Smoking or vaping cannabis and/or eating cannabis edibles can be done legally within the confines of private property. (Keeping in mind that property owners, landlords, and rental companies can ban the use and possession of cannabis on their premises).

Consumption of cannabis in public places (basically, any place where you are visible by the public) is not permitted. This includes inside of cannabis stores and in parking lots. Cannabis consumption is also not permitted in bars, restaurants, amusement parks, ski resorts, sporting venues, music halls, or on beaches, sidewalks, playgrounds, and campsites.

Also, no public consumption or possession at state and national parks. Most hotels also prohibit cannabis on the property so be sure to check ahead or book at venues known to permit cannabis. Finally, know that your car is not a good place to consume as Maine law specifically states that you cannot use cannabis in a parked car.

What should I know about traveling with cannabis I purchase in Maine?
It is legal to travel with cannabis in your vehicle provided you stay within state lines, are not carrying more than the 2.5 oz you are legally permitted to possess, and the cannabis is in an unopened, sealed package.
Have a question you don't see answered here? Reach out to us at info@sweetdirt.com