From the April 2021 Issue of Beer & Weed Magazine:
When 4/20 rolls around in 2022, Portland, Maine, will likely be among the premiere cannabis cities in the world. Given the current number of pending licenses for both medical cannabis and adult-use cannabis shops, there's some possibility those celebrating weed's annual holiday will find as many as 40 storefronts open for business.
That's roughly one shop for every 1,625 residents. Which would be a truly amazing development.
Of course, not every one of those licenses will be approved, and not every potential business gets off the ground or lasts even a year, but it's unquestionable that Portland will rapidly go from a city with a handful of medical establishments, serving only those with a card, to one of the hottest cannabis destinations in the world, with dozens of options for those over 21 and looking to catch a buzz.
Add that to the 21 breweries Portland boasts, and the seemingly countless bars and restaurants, and it's likely we see Maine's biggest city join the likes of Amsterdam, Prague, Marrakech, New Orleans, Montreal, Nashville, and Las Vegas as a world-class destination for bachelor parties and "hen do parties," as they say in the U.K.
Well, at least in the summer.
But just as Old Port bars don't represent every approach to serving alcohol, neither will there be just one kind of cannabis experience in Portland. Already, as of the first weeks of March, Portland has its first adult-use retail shops, and while they opened roughly six months after the October go-live date the state set, they're quickly catching up with their neighboring cities and towns and demonstrating a deviation from the stereotype.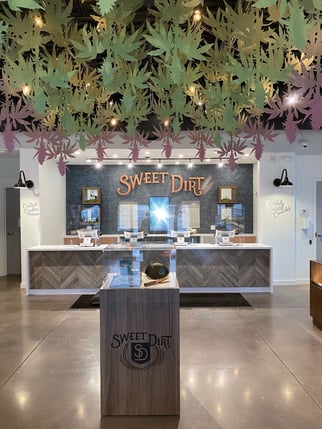 Touring Sweet Dirt's new Portland location a few days before it's open, situated in the iconic Wok Inn building on Forest Avenue, it's quickly clear these aren't fly-by-night operations we'll be getting. An interior designer holds up printed decorations and talks about their patina. Contractors examine floor-to-ceiling window treatments. A bank of point-of-sale systems spin up. There is talk of installing a "living wall" on the building's exterior.
We could be preparing to open a high-end spa or yoga joint. The executive team who leads the operations could be running a tech start-up. They've even acquired the Maine Organic Farmer and Gardeners Association's Certified Clean Cannabis designation.
Read the entire article here: https://beerandweedmagazine.com/2021/04/cannabis-city-usa/