Situated on the Kennebec River, Waterville is home to over 17,000 residents, two colleges and a pretty, redbrick historic downtown. With art galleries, breweries, bakeries, and shops – plus nearby hiking trails, lakes and ponds, and easy access to Sugarloaf and other ski resorts – Waterville has seen a resurgence similar to those being experienced elsewhere across the state.
When Sweet Dirt sought to establish its first recreational cannabis dispensary, centrally-located Waterville – with a growing arts and cultural scene and strong appreciation for Maine-grown and Maine-made products – was a perfect fit. Waterville was also one of the first towns to opt-in to retail adult use cannabis in the State and the very first in Kennebec County. As such, Sweet Dirt was thrilled to open its doors – one year ago – on December 9th, 2020, at 475 Kennedy Memorial Drive, just off of I-95.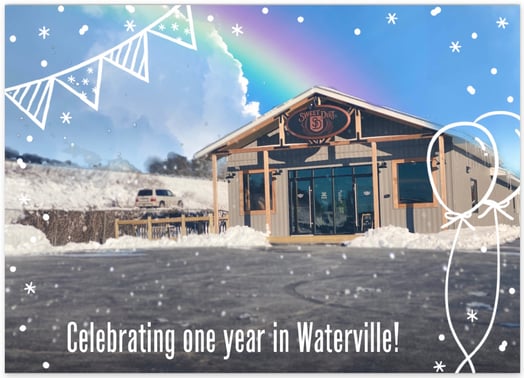 Sweet Dirt's Waterville retail team and supporting staff were overwhelmed by the warm reception by residents and visitors alike. Following a ribbon-cutting with the Kennebec Valley and Mid-Maine Chambers of Commerce plus both the in-going and out-going Waterville mayors as well as the fire and police departments, state reps, local press and more. In the past year, Sweet Dirt has built an incredible community of customers – both locals and visitors from afar – and a strong and growing retail team
Formerly a furniture and gifts store, the 3,100 square foot Sweet Dirt building was fully renovated with new floors, roof, ceilings, windows and more. The store features contemporary fabrication and finishes and state-of-the-art systems and security. The store décor and inventory celebrates Maine's storied landscape, diverse population (including the more than 37 million tourists that visit Maine annually) and showcases a thoughtfully curated product mix including dried flower, vaporizable and activated oils, concentrates, edibles, topicals, and ancillary products from Maine-licensed cultivation and manufacturing companies and Maine-based artisans.
Sweet Dirt also proudly offers its own organically-grown cannabis, grown in the company's 32,800 square foot greenhouse in Southern Maine – and the first and only adult use cannabis cultivator to have earned the Maine Organic Farmers and Gardeners Association (MOGFA)-certified clean cannabis designation.
Combining top-shelf artisanal cannabis - and some of the friendliest and most knowledgeable budtenders you will ever meet - in a beautiful and inviting store, the Sweet Dirt Waterville dispensary offers the ultimate cannabis shopping experience.
Open daily from 9 a.m. ET to 8 p.m. ET, the Sweet Dirt Waterville store offers both an in-person shopping experience and pre-ordering with in-person pick-up. Menus can be found on the Sweet Dirt website (www.sweetdirt.com or https://shop.sweetdirt.com ) as well as on both Weedmaps and Leafly.
Stop on by and help us celebrate the first of many years!