Sweet Dirt is featured in 'The Starting Line' series published in both Cannabis Business Times and Cannabis Dispensary Magazine.
The series documents various company's entry into medical and adult use cannabis markets. Sweet Dirt is one of just two Maine companies to be included in the series this year.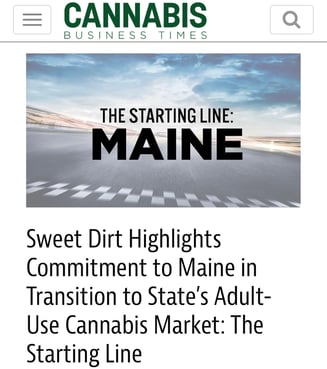 "You can't get a better state than the state of Maine for an industry like this," says Sweet Dirt CEO, Jim Henry. "It really is the dream state for this, from a geographic standpoint [and] a topical standpoint, from the rocky shores to the mountains to the beaches. … This is about a company that is really committed to that state and making sure that we not only brand ourselves as it relates to being a Maine-based company, but [that we also try] to give back to a state that has really given our employees so much."
Read the the complete article here: https://www.cannabisbusinesstimes.com/article/sweet-dirt-maine-transition-to-adult-use-cannabis-market-the-starting-line/

https://www.cannabisdispensarymag.com/article/sweet-dirt-maine-transition-to-adult-use-cannabis-market-the-starting-line/